How to feed a cat suffering from cancer?
A cat with cancer can have a poor appetite and lose weight – eating well is the key to avoiding this.
Diet is a very important factor in preventing, treating or relieving disease. It can be an important aspect to improve the quality of life of a cat suffering from cancer or any other serious illness.
Why is it important to feed a cat with cancer properly?
It is very common for animals with cancer to lose weight . And this is either because of the physiological effects of the disease itself, or because of the anti-tumor treatment they follow. The animal may lose muscle mass in addition to fat.
Not all types of cancer have the same symptoms. A cat suffering from cancer may or may not have nutritional changes. If it is a symptom, it can come in two forms:
Anorexia : Anorexia is an abnormal lack of appetite . In cancer cases, it can be intermittent and associated with taking treatment
Cachexia: Cachexia is progressive weight loss , regardless of whether the animal eats a sufficient amount of food. It may be due to an alteration in metabolism caused by disease or cancer treatment
Vomiting and anorexia are more common in cats than in dogs treated with chemotherapy . In many cases, treating a patient with cancer, especially if it has been complicated, is not intended to cure the patient, but to improve their quality of life and increase their survival time.
In these cases, food plays an important role as a means of preventing malnutrition and the proliferation of new tumors.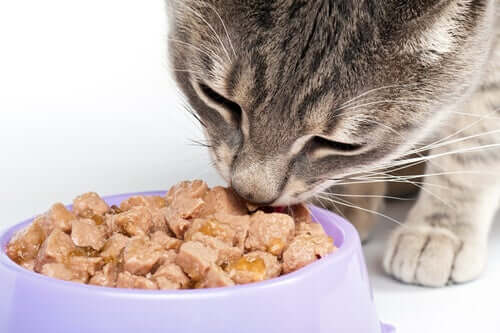 How much food should your cat eat?
We should not force the animal to eat , as this can have the opposite effect. The animal can become hostile to food if we force it because meals are associated with a bad experience. To feed a cat with cancer, we can do something more efficiently:
Feeding a cat with cancer: increasing its appetite
To increase his appetite, we can make him taste more appetizing foods . Wet cans can be very tasty for cats. They also have a different texture and consistency from that of animal feed. This may be enough to interest the animal in food.
Heating food very slightly so that it smells is also a way to whet the appetite of the animal.
Provide quality food
There is a wide variety of foods available on the market suitable for disease, age or special nutritional needs. A cat suffering from cancer needs a rich and balanced diet to maintain its physical condition against the progression of the disease ; high-end foods are always more recommended.
Feeding a cat with cancer: offering it new foods
The novelty may catch the cat's attention and encourage them to try to eat the new food, but you still need to maintain a balanced diet; our leftovers are not an option.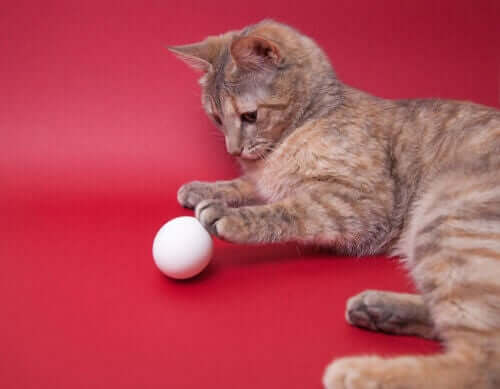 Divide food into small quantities
Instead of insisting on a full ration once a day and waiting for the cat to eat, you can split the food into small meals, several times a day . In this way, it is more likely that the cat will be encouraged to eat more than once.