Alhambra cats
The Alhambra is one of the most emblematic monuments of Spain. It is 100 years old and represents the cradle of Arab culture. It is steeped in history because the Moors who fought against Christians who were trying to reclaim their territories were hiding there. However, in addition to all this, there is something that catches the attention of the millions of tourists who visit it every year: the cats of the Alhambra.
Entering through the door of this monument of Arab origin , you can see that it hides hundreds of felines that wander there. How do tourists and workers see them?
The Alhambra cats, cared for and respected
You would think that a pet that lives on a monument can miss a lot. This would be the case if the Alhambra was a normal monument. But this is not the case, as it is an open-air castle, filled with fountains, gardens , trees and even small rivers. A paradise for a cat!
For cats, this is their home. They walk everywhere without having to ask permission and without being disturbed. We spoke with a worker from this magnificent castle to explain the reason for the presence of these cats and what they did to take care of and protect them. Here is what he told us:
"Their presence dates back several years. A kitten appeared one day, not knowing where to go. Although the place is very large, we realized that different workers saw it almost every day. He had stayed living here!
Later, a cat appeared. Before we knew it, the little cat was actually pregnant. Since then, kittens have appeared everywhere. Some also appear suddenly and are already older.
We take care of kittens
At the beginning, we had a person responsible for feeding them and giving them water. But later on, we realized that most tourists loved them and always fed them. Given that and all the water that can be found among the hundreds of sources that exist, it was more than enough.
All workers are aware of the presence of these cats. They were ordered to notify a responsible person in case they encountered a sick cat. In order to grant him the veterinary care he needs and which is the responsibility of society.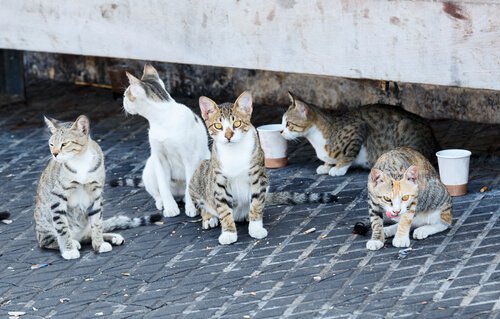 When there are baby kittens , we make sure that they have shelter and a comfortable place where they can be with their mother. Winter here is very cold, so we help them as best we can.
On the other hand, the entire monument is filled with cameras monitored by security agents. If someone tries to annoy one of the cats or worse, to hurt him , depending on the severity of his gesture, he could be punished. "
The wonderful cats of the Alhambra
We are puzzled and satisfied to know that there are people who look after animal welfare in this way. All are an example of kindness that we should imitate.
The Alhambra cats have become a tourist attraction. And they are useful in attracting public attention. If this beautiful monument was already worth a detour, it has now become the protector of cats at all levels. How not to love him!
If you pass by Granada , do not miss to visit the monument. He even applied to be among the 7 wonders of the world. Thus, you can also enjoy protected and well cared for cats.